Picard Peanuts
Look at how our peanut brand
has grown!
1978 – A great idea
In the beginning, Jim Picard Sr. wanted to switch from growing tobacco and other cash crops on his Simcoe, Ontario farm. He came across a small, prosperous peanut store on a rural road in the peanut capital of the world – Georgia, USA. From here, a great idea for a new crop and a whole new business was born!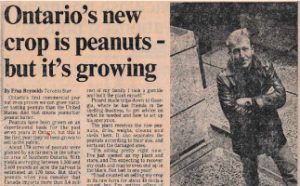 1979 – It's national news!
Working closely with the University of Guelph's Delhi Research Farm, Jim Picard Sr. helps pioneer peanut farming in Canada when he plants a small section on his farm. The results are so good and so well received, Jim and a group that includes his son, Jim Picard Jr., open Picard Peanuts. Being Canada's first homegrown commercial peanut farm, the news is broadcast all across Canada.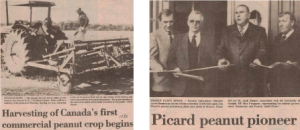 1980 – Business booms
Our first Picard Peanuts store opens on Highway 24, north of Simcoe. Over 40 years later, it's still a landmark for peanut lovers near and far. To keep the store well stocked with fresh peanuts, our peanut brand opens Canada's first commercial peanut shelling plant.

1982 – Out of adversity comes… new flavours
Ground frost in August? Believe us, in 1982, it happened and severely damaged our company's peanut crop. Instead of licking our wounds, Picard Peanuts fights back by expanding our facilities and developing new peanut flavours, seasonings, and products. This includes jumbo cocktail peanuts, barbecue peanuts, and extra fancy Virginia redskin peanuts. "If it has a peanut in it, there's nothing we can't make and make it of the best quality," says Jim Picard Sr.

1983 – They want more!
With customers clamouring for the new products, Picard Peanuts expands its product line with confectionery items like peanut brittle, beernuts and caramel corn.
1990 – Niagara Falls, here we come
The village of Fonthill, just outside Niagara Falls, becomes the site of Picard Peanuts' second retail outlet.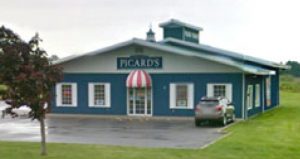 1991 – 1993 – The incredible story of Chip Nuts™
Another visit to Georgia gives Jim Picard Sr. the inspiration for combining two of the best all-time snack foods – potato chips and peanuts. This would become a Picard Peanuts original favourite – world famous Chip Nuts™. Turning a good idea into a good product isn't always easy, or fast – especially when you're a stickler for quality. But after an incredible 500 test batches, and two years of tweaking the formula to perfection, Chip Nuts™ make their debut. They are an instant hit and have been a Picard Peanuts bestseller ever since.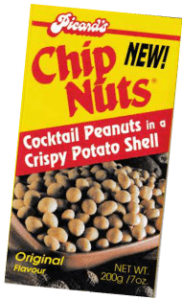 1995 – A formula for Cookie Nuts
Ever heard of Cookie Nuts? No one had in 1995, but Picard Peanuts begins working on a formula for cookie-covered peanuts.
2005 – 2008 – A growing family
Two new stores join the Picard Peanuts family. In 2005, in addition to being home to the 175 year-old Duff's Presbyterian Church, the village of Morriston, Ontario welcomes our peanut brand. Later in 2008, Picard Peanuts' fourth store opens in Woodstock, Ontario.
2012 – The Cookie Nuts are ready
Yes, you counted right. That's 17 years between our peanut brand working on a formula for Cookie Nuts before getting the product ready for customers. It was worth the wait! Cookie Nuts quickly become another Picard Peanuts original favourite. In 2013, Jim Picard Jr. takes over Picard Peanuts from his Dad Jim Picard Sr.. The father and son continue to work together in the business they started over 30 years ago.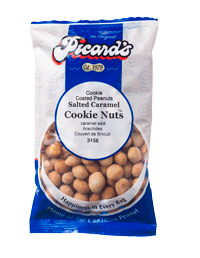 2012 – The business splits
2012 saw the business split into two separate and unique companies. Picard Foods and Picard Peanuts are now healthy competitors both committed to serving the best quality confections and freshly roasted peanuts in their own unique ways.
2013 – Jump into "The Candy Jar"
Every Picard Peanuts location opens a section called "The Candy Jar". This retro sweet shop is full of retro candy to make good days even sweeter. If you're looking for Dubble Bubble, Lucky Elephant Pink Candy Popcorn, Jawbreakers and so many more favourites from back in the day, check out The Candy Jar on your next visit.
2015 – New location
Our peanut brand opens a new retail store in Arva, Ontario, north of London. It enjoys overnight success!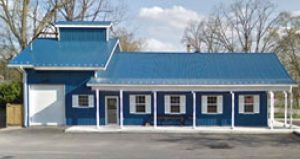 2018 – Newest location
Then our peanut brand opens a new retail store in Fort Erie, Ontario. It continues to be a proud and popular pillar of the local community.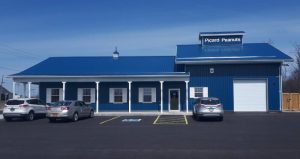 Come visit the family and experience the difference fresh makes
Don't look anywhere else for the best selection of fresh peanuts in Canada. If you're ever in the neighbourhood, come stop by one of our big blue barns! Experience real goodness with Picard Peanuts. Our Arva, Fonthill, Fort Erie, Morriston, Windham and Woodstock retail locations are open from Monday to Sunday for your convenience. Check out our locations and their hours below. We can't wait to meet you!